The 
ASSERT Empowerment and Self-Defense
 curriculum is a powerful training course designed for living, not just defense.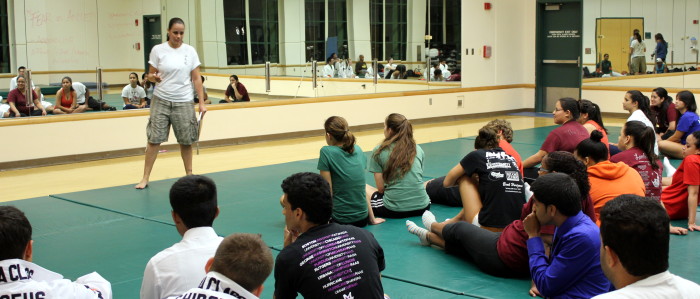 This is not a Martial Arts program!
ASSERT Self-Defense has a completely different focus and is geared toward the whole family!
Learn to confront the faceless violent criminal, home invader, carjacker, and kidnapper as well as the acquaintance, friend, or family member that becomes manipulative and potentially violent or dangerous.
 The primary goal of the course is to
Transform Fear into Power.
The ASSERT Program is designed to:
Help you face stressful situations successfully,
Plan ahead for them, and
Maintain your composure and clear thinking even under the effects of Adrenaline.
ASSERT Empowerment and Self Defense
 Courses are centered on the development of the 
Mind-Set 
in order to employ the 
Skill-Set
.
Because our program has been developed with the help of Mental Health Professionals, Self Defense Industry Leaders, Legal Experts, and extensive research into Department of Justice, Department of Defense, and Law Enforcement statistics, procedures, definitions, and training, we have been able to create a system that allows all students, of any age, gender, and physical capability, to effectively utilize the unique techniques and materials presented during our course work.
That is what makes ASSERT Empowerment and Self Defense different.
Once the Mind-Set is changed, the skills can be quickly
and effectively applied.
 Our goals are simple:
Recreate the levels of stress you would experience during an attack of any kind,
Do so in a controlled and safe environment, and
Empower You to Live Without Fear.
The program has been implemented in in-patient eating disorder clinics, at-risk youth groups, private schools and universities, social organizations, and family groups with incredible success, as a means to heal, improve communications, empower participants, and help group members bond while teaching effective, simple self defense techniques that anyone, at any age, and any physical ability can perform. For more information, visit the ASSERT Official Website: www.YouCanBeAssertive.com.
This slideshow requires JavaScript.