KSA Tae Kwon Do Rank Testing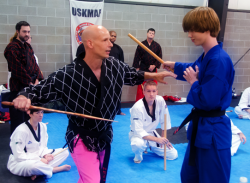 Join us for the bimonthly Tae Kwon Do Rank Testing at KSA Martial Academy. Spectators are welcome and live testing broadcasting is available on request through the KSA YouTube Channel.
Master Cat will be testing for 5th Dan, providing a very rare opportunity to see your Instructor test for rank. KSA will host 4 guest judges for the Testing panel: 8th Dan Grand Master Katherine Wieczerza and 3 6th Dans testing for 7th Dan: Masters Jeff Wade, David Turnbull, and Keith Walhborn, each of whom will run a 20 minute portion of the test. Master Dave McCargar will be performing a Goju-Shorei Weapons demonstration for his GSW Rank test. There are lots of special items planned throughout the day, so, even if you are not testing, plan on spending some time on the mat so that you can take advantage of this incredible experience! We expect to close out the day with a group dinner to celebrate our Guest Instructors and our Promoted Students.
We are expecting a large testing, possibly about 43 people, so confirm early.
Students who may be eligible for testing should contact Master Cat Fitzgerald to confirm eligibility. If you are invited to test, please arrive at least 15 minutes early to class and bring all of your gear. You are expected to wear full gi and correct current rank belt. All dojo and Tae Kwon Do Class etiquette must be observed during testing. This particular Testing will include several high-ranking Black Belts testing under Master Hasfjord, so, if you have never seen a Black Belt Testing, do your best to attend and participate!
Any Testing Requirements and Testing Questions will be emailed or handed to all eligible students at least two (2) weeks prior to the test for review. If you have specific questions about your requirements, please see either Master Cat or Master Liz.