KSA Tae Kwon Do Rank Testing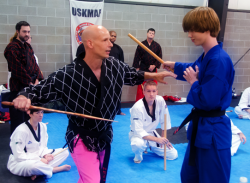 Join us for the bimonthly Tae Kwon Do Rank Testing at KSA Martial Academy. Spectators are welcome and live testing broadcasting is available on request through the KSA YouTube Channel.
There are several people testing for levels of Black Belt and we expect it to be a larger testing, so come early and plan accordingly! Students testing for Advanced Blue, Red, Advanced Red, and levels of Black Belt are expected to attend all day.
Students who may be eligible for testing should contact Master Cat Fitzgerald to confirm eligibility. If you are invited to test, please arrive at least 15 minutes early to class and bring all of your gear. You are expected to wear full gi and correct current rank belt. All dojo and Tae Kwon Do Class etiquette must be observed during testing. This particular Testing will include several high-ranking Black Belts testing under Master Hasfjord, so, if you have never seen a Black Belt Testing, do your best to attend and participate!
Any Testing Requirements and Testing Questions will be emailed or handed to all eligible students at least two (2) weeks prior to the test for review. If you have specific questions about your requirements, please see either Master Cat or Master Liz.